Hotel Info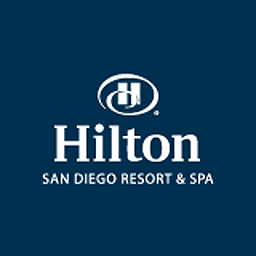 Hilton Resort and Spa
1775 E. Mission Bay Drive
San Diego, CA 92108



Hotel Booking Details
Sold Out Instructions
1) Try booking with the Hotel mentioning the "Ballroom Beach Bash"
2) If you cannot get a room - Keep Calm, and Email Jonathan (at joncandance@hotmail.com) and let him help you :) and /or book a room at one of the 8 hotels listed below that are close by the Hilton.
3) If you have a room at the Hilton you need to cancel please contact us first to see if we can reallocate it to a deserving dancer on our wait list. Thanks!
So sorry your competitors are trying to to freeze you out by booking all the rooms at the Hilton (hah! nice try but don't they realize we are in sunny California?). Not to worry you get the last laugh, as a last resort (pun intended) here are 8 Resort hotels close to the Hilton at various price ranges (mostly a lot cheaper :) .
Crowne Plaza Mission Valley
3.2 miles, 6 minutes
Address: 2270 Hotel Circle North, San Diego, CA 92108
Phone: 619-297-1101
173$ plus taxes and fees per nite
Paradise Point Resort
5 miles, 9 minutes
Address: 1404 Vacation Rd, San Diego, CA 92109
Phone: (858) 274-4630
194$ and up, plus taxes and fees
Hyatt Regency Mission Bay Spa & Marina
3.3 miles, 7 minutes
Address: 1441 Quivira Rd, San Diego, CA 92109
Phone: (619) 224-1234
159$ and up, plus taxes and fees
Catamaran Resort Hotel & Spa
4.6 miles, 14 minutes
Address: 3999 Mission Blvd, San Diego, CA 92109
Phone: (858) 488-1081
253$ and up, plus taxes and fees
Wyndham Garden San Diego Sea World
3 miles, 11 minutes
Address: 3737 Sports Arena Boulevard, San Diego, CA 92110
Phone: 619-881-6100
113$ and up, plus taxes and fees
Hilton Hotel Mission Valley
5.6 miles, 11 minutes
Address: 901 Camino Del Rio South, San Diego, CA 92108
Phone: 619-543-9000
139$ and up, plus taxes and fees
Sheraton Hotel Mission Valley
5.6 miles, 10 minutes
Address: 1433 Camino Del Rio South, San Diego, CA 92108
Phone: 619-260-0111
123$ and up, plus taxes and fees
Hampton Inn San Diego Mission Valley
3.3 miles, 9 minutes
Address: 2151 Hotel Circle South, San Diego, CA 92108
Phone: 619-295-7600
143$ and up, plus taxes and fees