Trash Talk Volleyball
Trash Talk Volleyball (and Breakfast) FAQs

When?
- Free Breakfast is served 9-11am,
- Volleyball tournament starts at around 9:30 a.m.
It will start at a slow pace and build to a happy medium pace :)
What is Trash Talk Volleyball?
Volleyball with a softer ball, lower net and much respect earned for style and trash talk ability, (athleticism? talent? not so much). Starting team captains, Michael, Toni and Jonathan (more teams added as needed). Teams on a first come rotation allocation basis, everyone wanting to play will get on a team.
Where?
About a minutes walk around the right side of the Hotel (if you are facing the water) by the shade trees in the grassy park overlooking the water on the bayfront (see map below).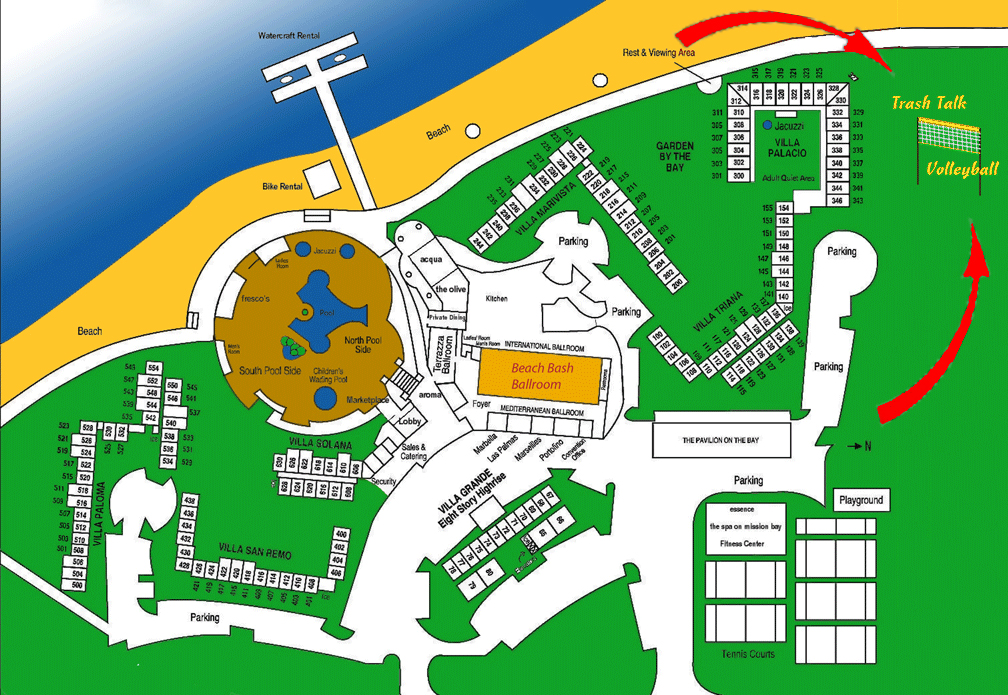 For Who?
All Pro-Ams, Amateurs and Pros competing at the Ballroom Beach Bash and the behind the scenes staff will be warmly welcomed (even judges and MCs are welcome, again, that's how nice we are at BBB :).
Do I need to have played before?
Prior experience not at all necessary since the organizers (Jonathan, Michael and Toni) will be "playing" and they certainly look like they have had no prior experience (Note: but they do pride themselves on being able to skillfully distract the opposing team with pithy and helpful comments).
Do I have to play volleyball?
Not at all, free hot breakfast and refreshments will be served from the Ballroom Beach Bash tent. You are invited to just lounge in a chair, watch and chill out, or if you like, play lawn games, bean bag toss, bocce, paddle bat, and ladder toss. The only body part that we actively encouraged the peanut gallery to utilize are their vocal cords. Volunteers for referee, cheerleading squad are welcomed.
How to I enter?
Sign-up at Registration in advance, (or just turn up on the morning).
Is there an entry fee?
No. (Should there be?)
Prizes
Basking in the joy of victory and seeing the losing team perform a 15 second "Dance of Shame" (see real life video example here) choreographed by the winning team.
Any other reason I should show up?
Free hot breakfast and refreshments, a lot of fun, and excellent company. A great way to wind down after the comp before traveling home and an opportunity for Jonathan, Michael and Toni to thank you personally for joining them at the 2015 Ballroom Beach Bash.
Read the Legal Notice
Attendees of the Trash Talk Volleyball event forever release Ballroom Beach Bash and their agents from any and all actions, claims or demands related to their participation in these events and assume all liability for hurt feelings, injury, death, or property damage or loss, that may be incurred as a result of their participation in these activities.
Trash Talk Volleyball Rules (subject to change)
- First team to 15 points with a 2point lead wins (t
here is no ceiling, so a set continues until one of the teams gains a two-point advantage
).
- You score on every point regardless of possession.
- Serves tipping the net get a do-over.
- Max three touches on your side of the net before the volleyball has to go over to the other side.
- Kids can one bounce-catch-throw. Kid designation will be decided by majority vote...childlike behaviour/ attitude does not qualify one as a kid (Jonathan).
- Loser team dances 15 second dance of shame (after one rehearsal taught by a winning team member), which will be videotaped, so put your best foot forward (usually left foot but don't worry, you have a 50/50 shot of getting it right).
- All other regular volleyball rules apply (unless countermanded by the Authorities.)